Looks like things are again getting cooked up between Salman Khan and Katrina Kaif. The former couple who were once termed inseparable are working together on 'Tiger Zinda Hai' nearly after a 5 year hiatus. The former couple along with Alia Bhatt were at IIFA press meet on Thursday evening where they made their first major public appearance months ahead of the release of their upcoming film collaboration.
The duo talked about their off screen comfort level with a tinge of sweet little nothings. Salman Khan was at his quirky best with occasional flirts and pulled Katrina Kaif's leg that made her speechless. The session which went for about 3 hours was full of entertainment and gave spectators plenty to laugh at.
Katrina was even asked towards the end of the show that how does she manages to work with somebody like Salman who is always putting her in a tight spot with his humour to which she said, "No. With Salman, it's always entertainment and that's been wonderful. He is like a continuous TV show. So, it's like you're watching and being happy."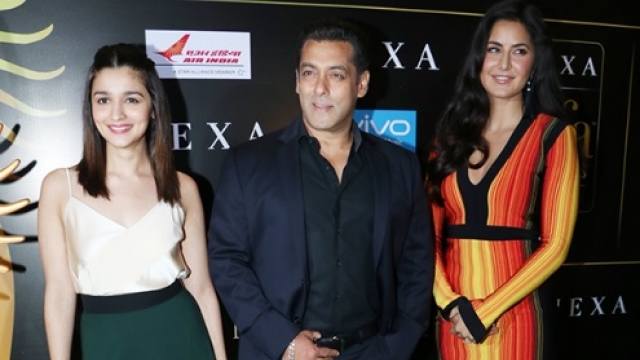 They were also accompanied by Alia Bhatt who is going to attend her very first IIFA. On the stage while talking about Indian International Film Awards (IIFA) where the trio would be performing, Salman and Katrina could be seen laughing and exchanging words with each other.
At one point, a reporter asked Alia where would she like to go in New York after IIFA, to which she said, "Wherever Katrina take me, I will go." To which Salman interrupted and said, "And Katrina will go, wherever I take her." This bought a huge blush on Katrina's face amidst huge cheer from the crowd.
But the flirting wasn't just one sided. When Alia was asked by a reported that when would she work with Salman, Katrina took the mike from her and said, "Please leave Alia for Varun Dhawan and Salman for me!"
This is the first time Katrina has been so candid with Salman during a public appearance. Earlier, she was always seen maintaining distance with Salman, but looks like the tide has turned.